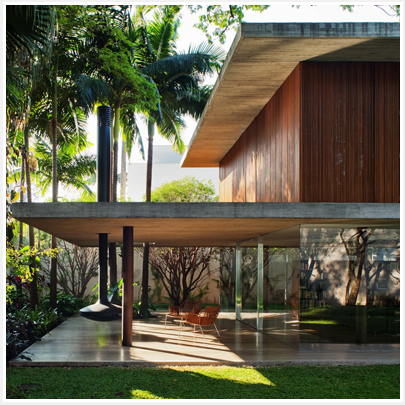 Sure, the weather is warm during the day – but summer nights can still benefit from the warmth of an outdoor fireplace, especially if you live near the beach, in the mountains or in a remote desert location. All of these environments tend to cool off at night, even in the summertime. Plus, there's really nothing like the incredible ambiance of an outdoor fireplace – no matter where you live! They make the perfect centerpiece for the following outdoor living areas.
Patios: A simple backyard patio, on any style of home, can receive an instant makeover from a custom outdoor fireplace. Since our outdoor fireplaces are available in many different sizes, even homeowners with smaller patios still have backyard fireplace options available to them.
Loggias: What is a loggia, you ask? You may have one and not even know it! A loggia is a larger backyard patio designed for upscale entertaining; often, the design is Italian-inspired with a cover that is held up by decorative pillars. If you are fortunate enough to have a loggia adjacent to your home, there's no better way to make it welcoming than to add an outdoor fireplace. This can be the showpiece that has everyone talking about your parties for years to come.
Swimming pool decks: Whether your pool deck is elevated or a simple concrete slab on the same level as the pool, you can dress it up with an outdoor fireplace. Browse our selection of outdoor fireplaces to see what design works best with your poolside space.
Summer may be in full swing, but it's not too late to enhance your outdoor living area with outdoor fireplaces. Our gallery is full of beautiful designs to consider; take a look, and then feel free to contact us with your questions!