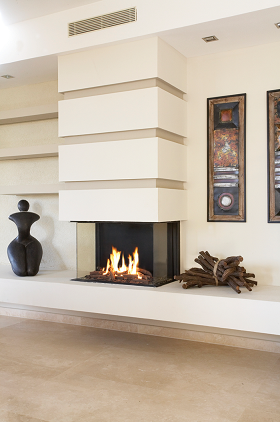 Summer may not seem like the time to start looking at fireplaces, but it is actually the most practical season to gather your fireplace ideas and start shopping for one. After all, if you are investing in something that is so essential to the ambiance and functionality of your home, it's a good idea to have it ready long before you'll actually need it (unless you're the last minute type – and hey, that's okay, too!). To help you get those fireplace ideas rolling, here are our suggestions for designs that are great for family homes:
Built-in fireplaces. We have over a dozen options for built-in fireplaces, many of which are perfect for the modern family home. If you like the popular "clean lines" design aesthetic, a built-in fireplace could be a great choice.
A ceiling suspended fireplace and hearth. This is a good choice for families with older children; we have many hanging and suspended fireplaces to choose from that can be appealing to families who have moved past the safety concerns of having young children. A suspended fireplace looks incredible, and it can warm the whole space with its 360 degree fireplace panel.
Wall mounted fireplaces. These are what most people associate with fireplaces, sure – but you've never seen a selection like this. A wall mounted fireplace may sound like the most traditional option, but when you take a look at the models we offer, you see that wall mounted fireplaces can be just as mind-blowing as any suspended or built-in models.
These are just some of the fireplace designs you can consider for your home – but why not get your family involved in the planning and selection process, too? You may be surprised at how creatively they think! Check out our gallery, or follow us on Pinterest for more creative fireplace ideas.