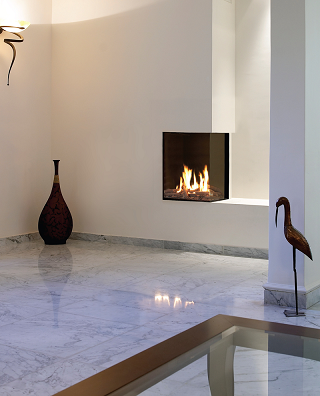 Whether you choose a wood burning fireplace or a fireplace that runs on clean-burning fuel, you are bound to have some questions about safely operating your fireplace. With that in mind, here are some of the most commonly asked fireplace safety questions.
Q: What is the safest distance between a fireplace and a mantle?
A: Many experts recommend placing a mantle at minimum of 12" above the top of the fireplace. If the mantle is a shelf that protrudes out, add one additional inch to the height of the mantle for every inch that the mantle protrudes out.
Q: How often should I clean out my fireplace?
A: It depends on how often you use it. If there is more than ¼ inch of soot in your wood burning fireplace, it needs to be cleaned so that you can continue to operate it safely.
Q: Is it safe to burn trash in the fireplace?
A: It is not considered safe. Trash burns too hot, which could start an out-of-control fire and damage your flue. Plus, some of your trash may contain chemicals that are unsafe to emit into the air.
Q: How can I keep my family safe from fireplace sparks?
A: There are many accessories that can shield you from fireplace sparks, including flat wire mesh screens and glass doors. However, gas logs are not likely to spark at all; neither are our clean-burning fireplace fuels. You can learn more about our bio-ethanol fireplace fuels here.
Q: What if I am unsure about the safety of the fireplace I am interested in?
A: We pride ourselves on crafting fireplaces with safety in mind. However, you are welcome to ask us about safety considerations for any fireplace you are considering.
If you have other fireplace safety questions for our wood burning fireplace units or our fireplaces that operate using fuel, feel free to ask us on Facebook or Twitter. We will be glad to answer them!